Buzzwords tend to be misused. For example, long before the turn of the millennium, the word "design" was overused and devalued to denote any kind of styling, no matter how banal. Genuinely good design, on the other hand, fulfills lofty and sometimes also ethical conditions. According to Dieter Rams, who is one of the most important designers after 1945, good design must be innovative, usable, aesthetic, understandable, unobtrusive, honest, durable, consistent and environmentally friendly. Born in 1932, Rams is a minimalist who believes that good design should also be "as little design as possible."
Quality criteria such as these likewise apply to contemporary jewelry design, which has its own unique values thanks to its special function and history. Like artistic one-of-a-kind jewelry, jewelry design as we understand it today emerged from the combination of craftsmanship and art since the 1970s. From the beginning, it embodied an antithesis to contentless industrial jewelry.
Angela Hübel, Zebra Ring, 750 rose gold. The ring as sculpture has been Angela Hübel's central theme ever since her student years at the Academy of Fine Arts in Munich. www.angelahuebel.de
Georg Spreng, Augen [Eyes] Rings. Yellow gold 750 with tanzanite and fire opal. Georg Spreng studied industrial design at the Werkkunstschule Schwäbisch Gmünd and first made a name for himself as an industrial designer before becoming internationally known for his opulent yet clearly designed gemstone rings. www.georgspreng.com
Christiane Iken, Pendant Goldammer, [yellowhammer]. Yellow gold 750, forged. Christiane Iken graduated from the FH Pforzheim and ran the jewelry gallery der goldene schnitt in Karlsruhe for many years. Since 2016, she has been making minimalist jewelry that "moves smoothly and delights the sense of touch so it can be worn gladly and with pleasure." www.christiane-iken.de
Sarah Küffer, ERI XL. Silver 925 gold-plated 18ct. Like an increasingly large number of jewelry designers, Sarah Küffer, who graduated from the Gestaltungsschule in Bern, uses recycled precious metals. Her ERI collection is inspired by the paperclips that were worn as a symbol of resistance in Norway during World War Two. www.sarahkueffer.ch
Jewelry designers at Inhorgenta 2023
Vera Rhodius, ear jewelry. Glass, silver, fine gold plated. The seemingly timeless pieces by Vera Rhodius, who studied jewelry design at the Pforzheim University of Applied Sciences from 1979 to 1983, embody formal references to past eras as well as through her use of Bakelite or antique glass beads. www.vera-rhodius.de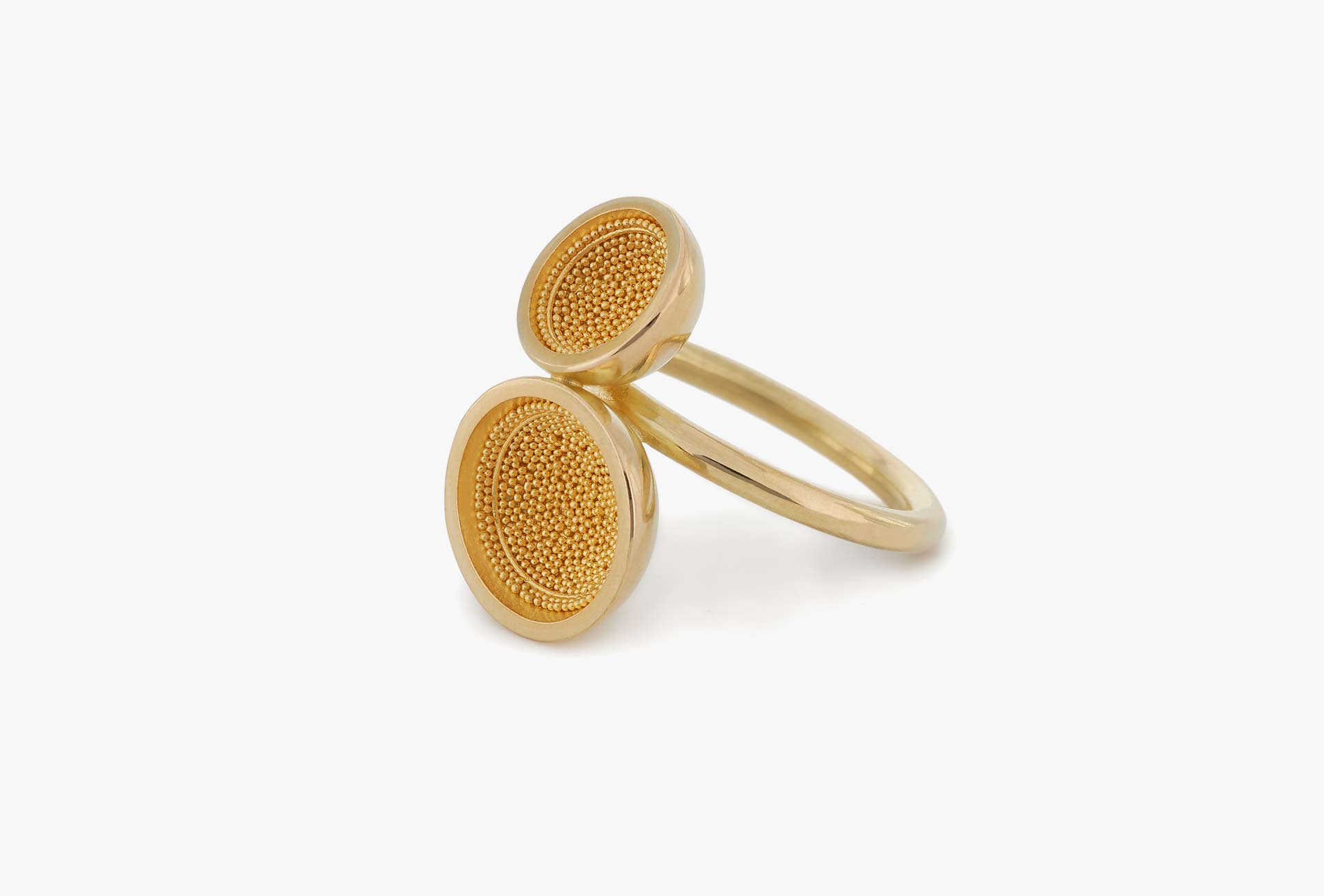 Pura Ferreiro, double ring Konkav, granulated. Recycled gold 900 and 750, Photo Philipp Mansmann. Pura Ferreiro's main focus since her master's examination in 1991 has been to preserve the ancient granulation technique in contemporary forms. www.puraferreiro.de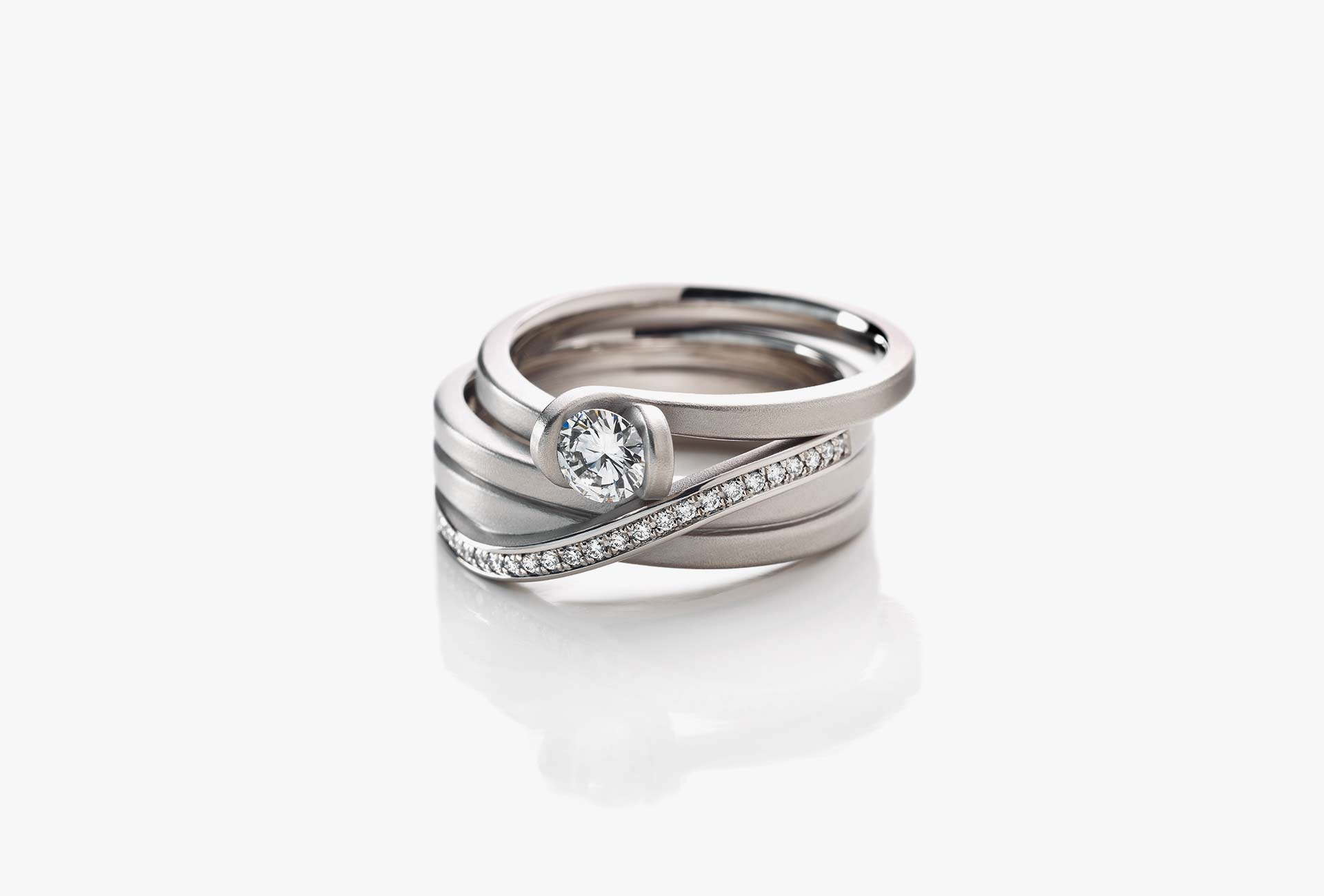 Oliver Schmidt, combination solitaire diamond ring and ring Endloses Band [Endless Band], platinum. Oliver Schmidt from Pforzheim earned an international reputation by reshaping geometric profiles such as knots, waves and curved lines, which he masterfully crafts in gold or steel. www.ol-schmidt.de
Inhorgenta Munich took place from 24.02. until 27.02.2023.