The article "With Stitch and Thread" (p. 40) wasn't originally intended. But the new coronavirus also forced us to change some of our plans. Miriam Künzli had to cancel her photo session with the Swiss ceramist Arnold Annen in Basel, just as Rüdiger Joppien had to call off his interview with Heinz-Joachim Theis from the Berlin Ceramics Museum. But the story about the embroidering Expressionists and today's renaissance of embroidery art fits well with the current situation, partly because some artists from that era also experienced the Spanish flu, a pandemic that occurred in three waves between 1918 and 1920 and claimed between 27 and 50 million lives from a global population of 1.8 billion. August Macke and Franz Marc did not live to see it: they were among the nine million soldiers who died in World War One.
We can draw courage from the fact that visionary ideas and lastingly inspiring artworks were conceived in such a catastrophic era. Especially the Expressionists' efforts to link art and life remain as relevant today as does the call for complete equality of women and men – so anyone who feels the urge to embroider can do so. The Bavarian artist Florian Lechner found his life's work during a pilgrimage to Chartres Cathedral: deeply moved by Gothic stained glass windows, he set out to create modern variations for light-flooded rooms (see page 10). Enamel, the material to which Jamie Bennett has devoted himself since his years as an art student, is related to glass. This American has worked with enamel for 50 years, conjuring jewelry with patterns and colors that recall natural forms, calligraphy or Islamic ornaments (see p. 20).
Gabi Veit from Bolzano in South Tyrol began collecting spoons a few years ago and apparently by chance. This resulted in an artistic project that she continued to pursue during the coronavirus crisis. This spoon-maker's creations are full of magic, always surprising and they sometimes look downright dangerous! Our interview with her begins on page 30.
It is almost a tradition that we discuss the Loewe Craft Prize, which was held for the fourth time, although the conferral had to be postponed until 2021 because of covid-19. We explain why this international prize is so important for the applied arts (see p. 52).
How could alternative yet well-designed products and forms of work look in an ecologically responsible economy? A convincing answer to this question is provided by the twins Nicola Burggraf and Elena Burggraf-Reusch, who fabricate elegant, sustainable bags and backpacks made of cork leather (see p. 70). These women and their business are sure to survive the momentary crisis – and we dearly wish the same for all our readers and contributors – because authentic workshops and manufactories, as well as their dealers and galleries, remain important for a more humane world. This also applies to all those who, as buyers, keep this mode of production alive now and in the future.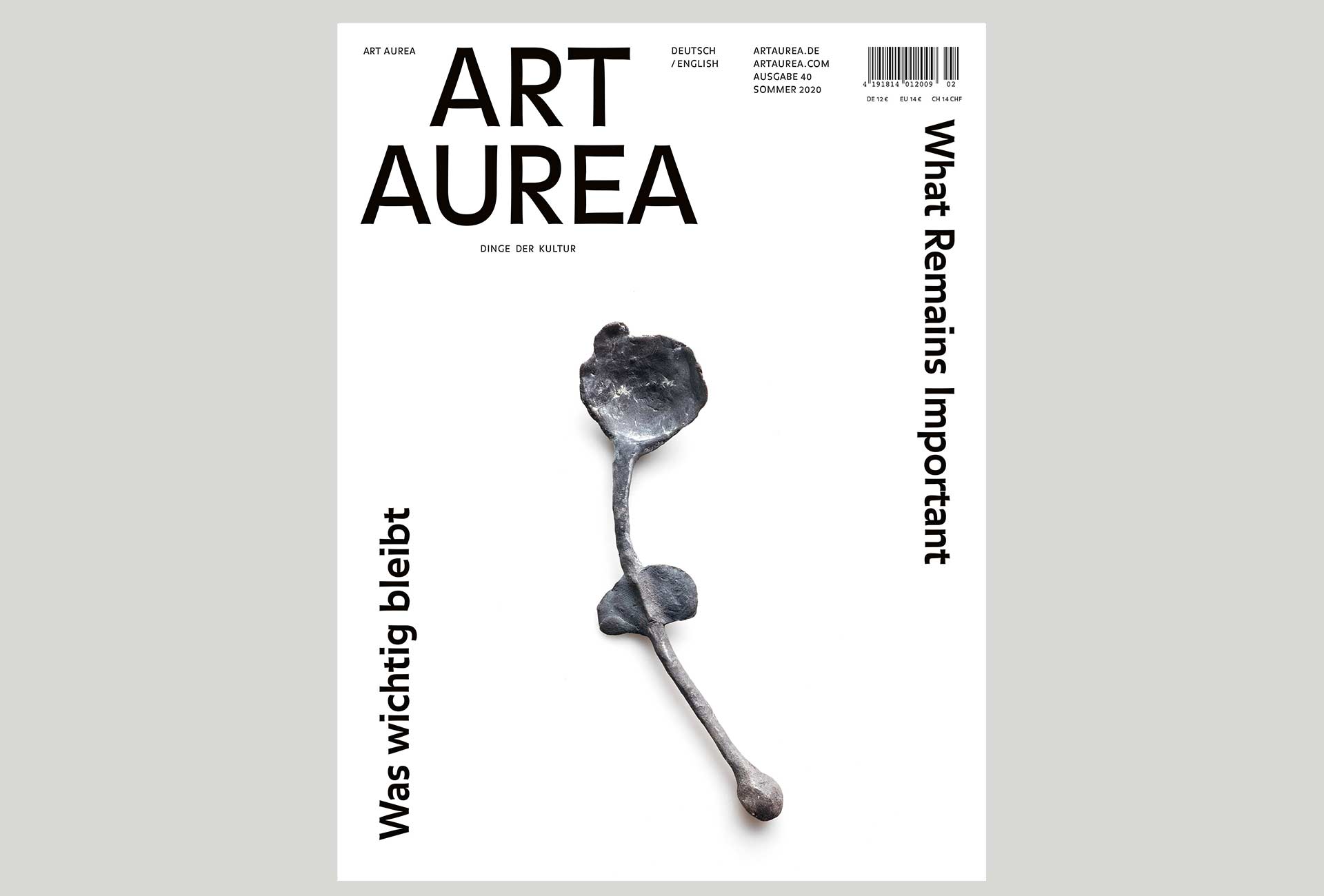 Art Aurea No. 40 (the second of a total of four issues this year) will be available from June 9, 2020 in leading galleries and in the station bookstore. 88 pages + 4 pages cover, retail price 12 euros. International 14 euros. Or subscribe here.