Circa 1,000 exhibitors present jewelry, watches, precious stones, semi-finished products and technical equipment at Inhorgenta Munich in 2020. This is a remarkable feat for Munich Trade Fair because the heyday of these industries has long passed in Germany, where the jewelry and watch trade nonetheless remains a socially significant and lucrative market segment valued at circa 4.5 billion euros. Especially against the background of e-commerce, specialized shops and galleries for jewelry and watches are an important factor for the stationary retail trade as well as for the much-discussed and jeopardized survival of city centers.
Hall C2 has a new sustainable concept in 2020. A "Trend Factory" there hosts discussions of topics related to the future. What underlies these efforts? Hall C2 has been the meeting place for contemporary jewelry design since 1998, when Munich Trade Fair relocated from Theresienwiese to the modern exhibition center in Riem. Hall C2's most important features are individualistic, creative styles shaped by the personalities of the designers as well as independent, holistic production in workshops or manufactories. Several larger ones of this kind can also be found in Hall B1.
The new designers acquired their expertise through practical training coupled with studies at technical colleges and universities. Their creations combine traditional craftsmanship with modern product design and innovative technologies. Last but not least, these articles embody a humane, contemporary alternative to conventional, industrially fabricated jewelry and especially to mass-produced goods from low-wage countries. It is praiseworthy that Munich Trade Fair Center is making an effort to keep Hall C2 alive, but it would be even more important if the trade were to play its part by briskly purchasing the items on display there.
Dorothea Brill, Twin, necklace from the Meter-wise series. 925 silver. Photo Heidi Scherm. www.dorothea-brill.de
Annette Ehinger, earrings. 585 gold, smoky quartz, pink tourmaline. Inhorgenta, Halle C2, Stand 218. www.annette-ehinger.de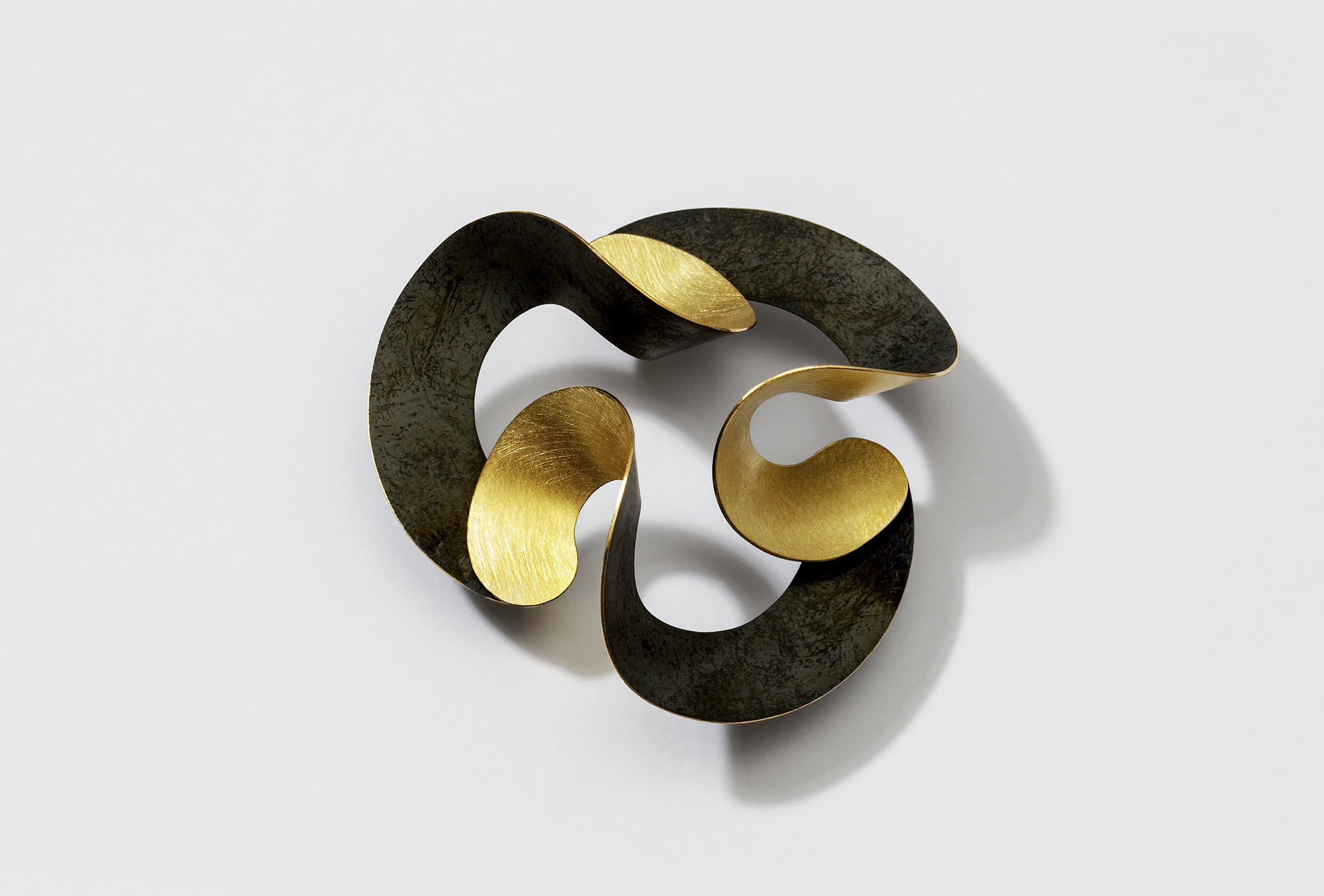 Christiane Iken, gold spiral brooch. Inhorgenta, Halle C2, Stand 241. www.christiane-iken.de
Claudia Hoppe, bracelets flamenco. 750 gold. Inhorgenta, Halle C2, Stand 313, Forum Konzepte. www.claudia-hoppe.de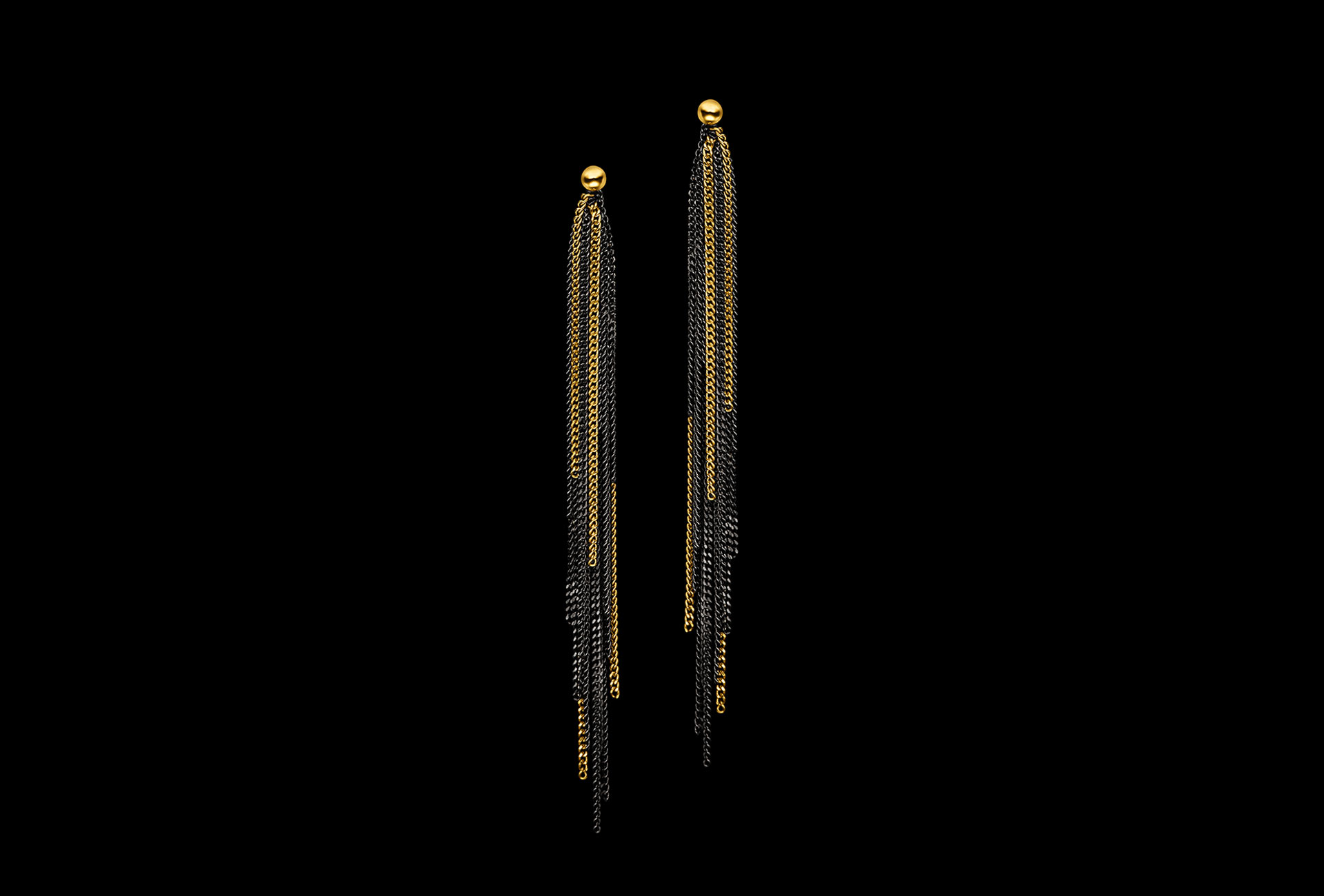 Claudia Milić, fine tassel" earrings PAVO. Gold, black rhodium-plated silver. Inhorgenta, Halle C2, Stand 216. www.claudia-milic.de
Corinna Heller, Havanna-Rings. Inhorgenta, Halle C2, Stand 208. www.corinnaheller.de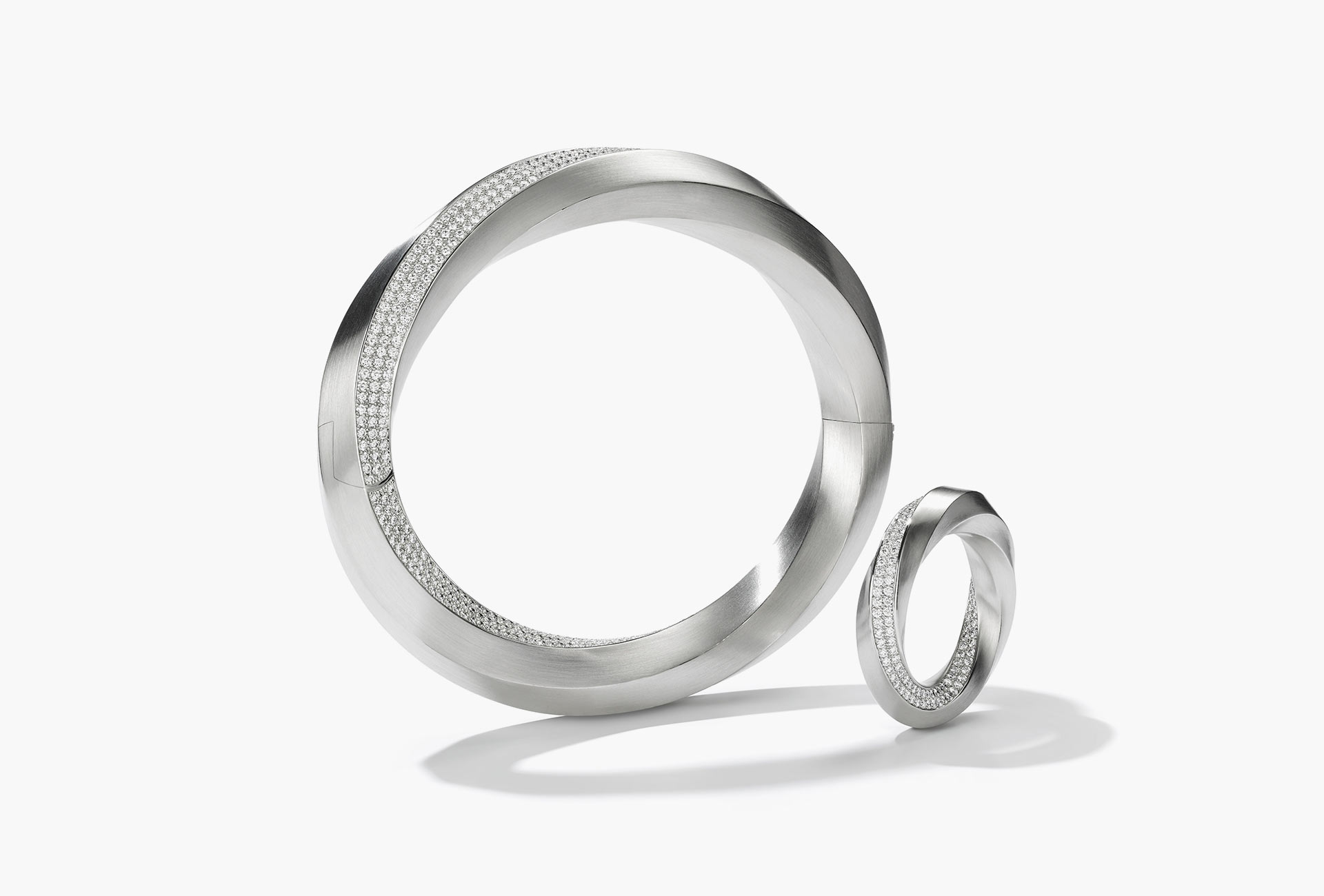 Henrich & Denzel, Helix bangle and ring. 950 platinum, 438 and 124 diamonds. Inhorgenta, Halle B1, Stand 222. www.henrich-denzel.com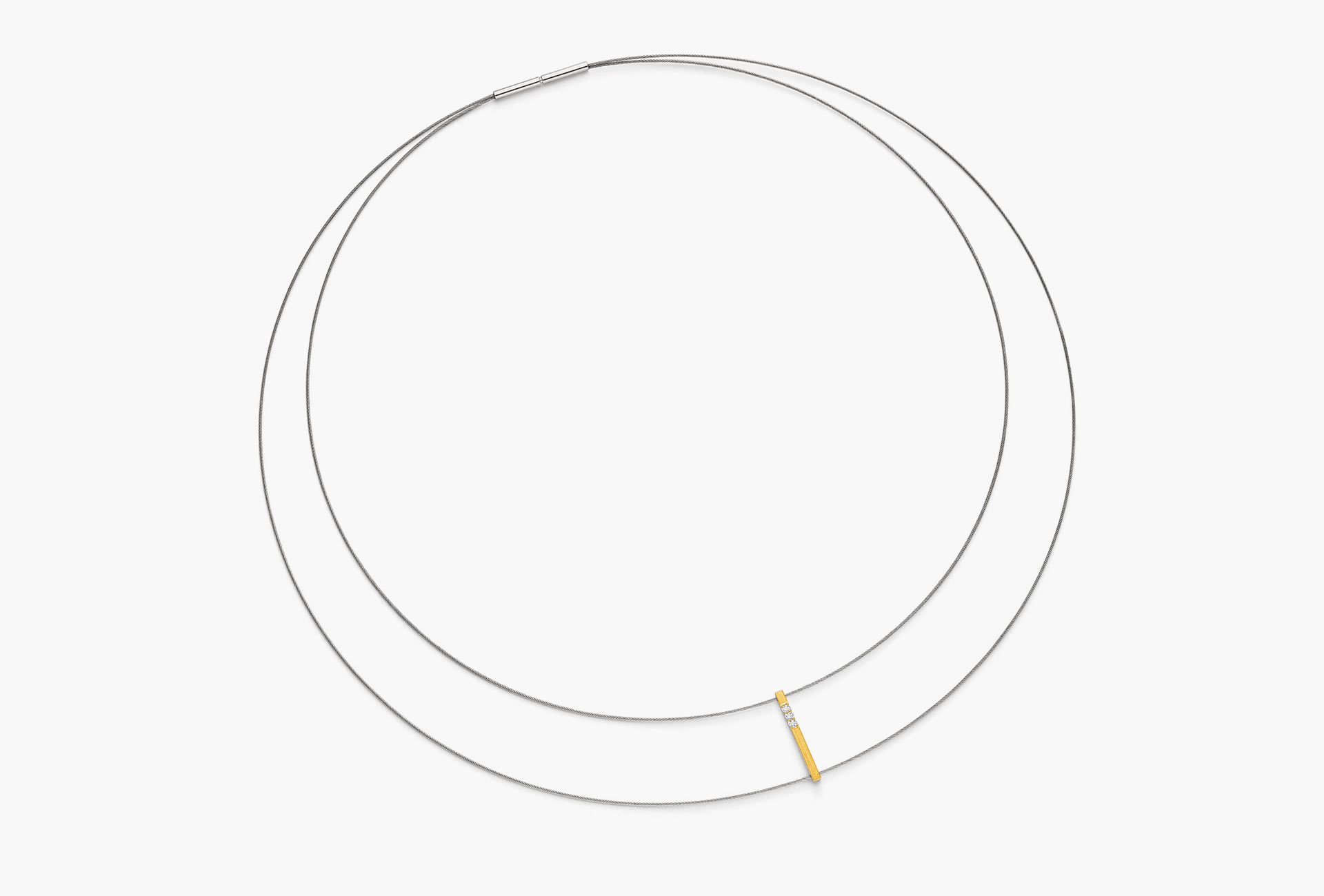 Manu Schmuck, necklace K1377. Three diamonds, steel cable. Photo Pixelgold, Rainer Schäle. Inhorgenta, Halle C2, Stand 404. www.manuschmuck.de
Antje Liebscher, Wave chain. 925 silver, rose gold. Awarded with the German Design Award Special in 2019. antje-liebscher.com
Sabine Müller, earrings from the snowy series. Silver partly blackened, ground plastic. Inhorgenta, Halle C2, Stand 321. www.sabine-mueller.com
Nicole Walger, Flitterings. 900 Gold (raw gold flakes from river deposits. www.nicole-walger.de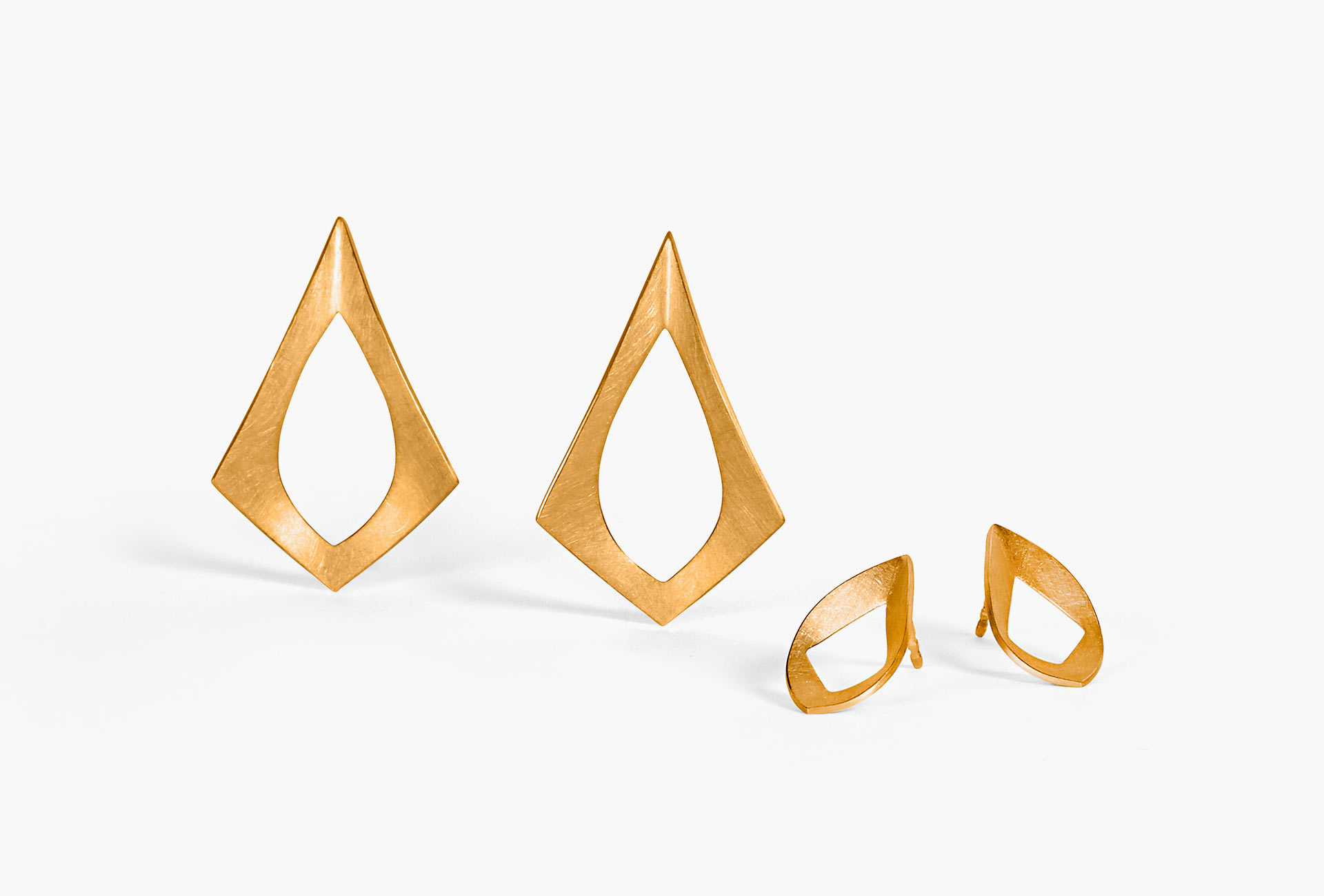 Jutta Ulland, Harmony in Opposites – The Dragon and the Noble Momentum. Available in 750 gold, silver gold plated, silver. Inhorgenta, Halle C2 Stand 319. www.jutta-ulland.de
Vera Rhodius, pendant. Silver, glass. Inhorgenta, Halle C2, Stand 231. vera-rhodius-schmuck.de
—
Inhorgenta Munich
Messegelände
81823 München
Germany