The number of submissions alone – 2,500 this year – shows the strong attraction of the Spanish Loewe Foundation's Craft Prize, which is now in the third year of its existence. The large international jury of architects, designers, museum curators, representatives of institutions and trade journalists is unparalleled. Wolfgang Lösche from the Chamber of Crafts in Munich and Upper Bavaria was involved from Germany. Other jurors included the British ceramic artist Jennifer Lee, who won the award in 2018. Enrique Loewe (Honorary President of the Loewe Foundation) and Jonathan Anderson (Creative Director of Loewe) represented the organizer.
Twenty-nine finalists remained after the pre-selection. Genta Ishizuka, the overall winner, was born in 1982 in Kyoto, where he now lives and works after having spent time at Royal College in London. Jonathan Anderson, Loewe creative director, commented on this year's winner: "Ishizuka's work proves that craft can be open and shows the freedom of creation. His use of an ancient lacquer technique in a contemporary form breaks conventions and represents a new sculptural vision in craft."
The Jury also agreed upon two special mentions. Harry Morgan for the work "Untitled" from Dichotomy Series, 2018 and Kazuhito Takadoi for the work KADO (Angle), 2018.
From the 26 June to 22 July, Genta Ishizuka's winning piece and all the finalists' works will be showcased at a free exhibition at Isamu Noguchi's indoor stone garden "Heaven" inside the Sogetsu Kaikan building in Tokyo. From ceramics, furniture and glassware, to basketry, jewellery and blacksmithing, the show demonstrates the artists' quests to reconcile the ancient with the avant-garde. A video on the Loewe Craft Prize website gives an insight into the exhibition.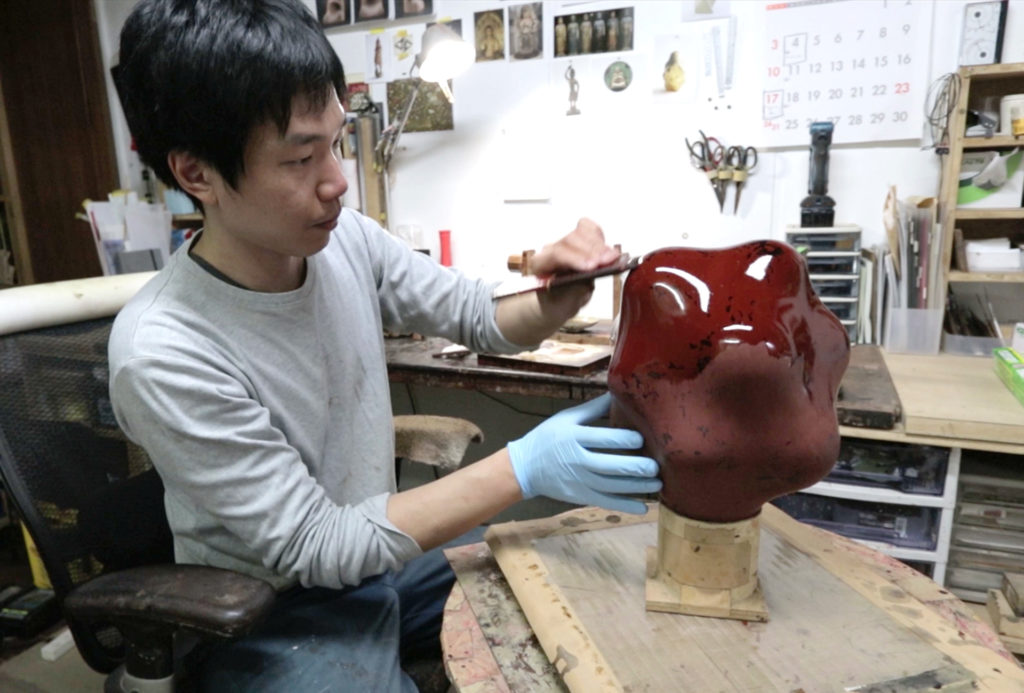 Using the simple motif of a bag of oranges as his point of departure, Ishizuka elevates this humble form through his expert use of lacquer. The allure of the gloss of his material creates an immediately sensual attraction that is contemporary in its appeal, belying the fact that the urushi lacquer technique originates from Japan between the 7th and 8th centuries.
Harry Morgan's work inverts the rules of gravity and creates objects that are completely counterintuitive. Referencing the brutality of architecture and the craft of Venetian glass making, a dense mass of concrete sits on top of a block of individual glass laments. His works establish a powerful relationship between the two contrasting materials as they merge to become one form.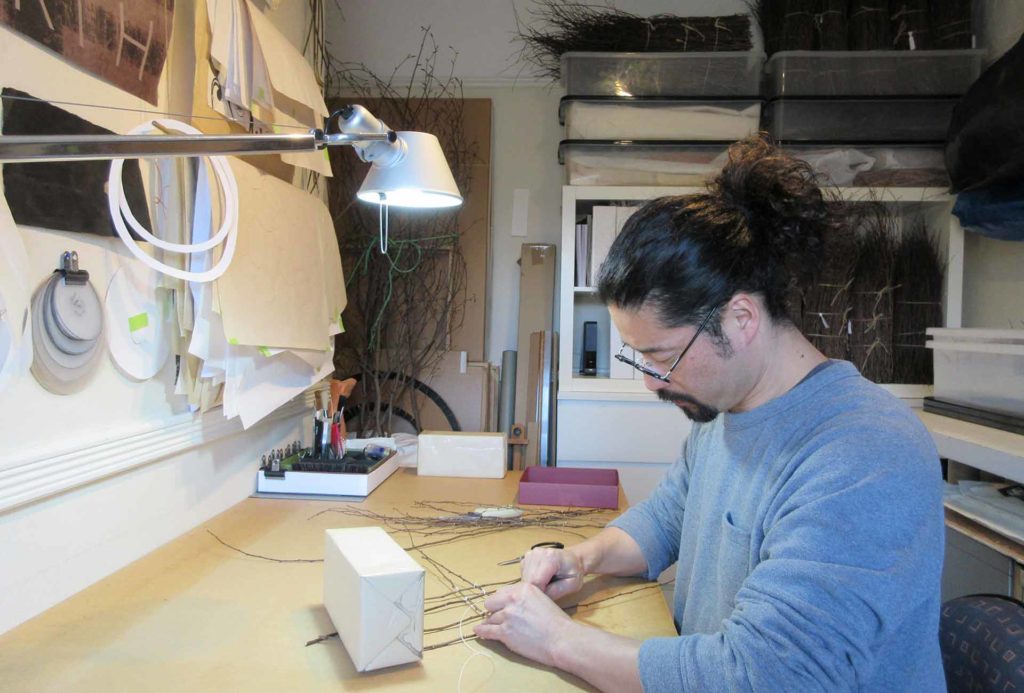 Working entirely in organic matter grown by himself, Takadoi sews together branches, grasses and reeds to create forms that shift and change as the material matures and evolves. Over time, a more subtle palette of colour is gradually revealed by this process. This work has a severity of form that puts in play ideas surrounding void versus solid, and shadow versus light.
Further artists who were represented in the final selection (Shortlist):
Akiko Hirai (b. Japan lives and works in United Kingdom)
Andrea Walsh (United Kingdom)
Annie Turner (United Kingdom)
Deloss Webber (United States)
Elke Sada (Germany)
Giampaolo Babetto (Italy)
Giovanni Corvaja (Italy)
Heeseung Koh (Korea)
Henar Iglesias (Spain)
Jim Partidge & Liz Walmsley (United Kingdom)
Jing Feng Fang & Mi Dong (China)
John Eric Byers (United States)
Jokum Lind Jensen (b. Denmark, lives and works in Sweden)
Junko Mori (b. Japan, lives and works in United Kingdom)
Koichi lo (Japan)
Kye-Yeon Son (b. Korea, lives and works in Canada)
Youngsoon Lee (Korea) Masanori Nishikawa (Japan)
Mayu Nakata (Japan)
Michal Fargo (b. Israel, lives and works in Germany)
Minhee Kim (b. Korea, lives and works in United Kingdom)
Ruudt Peters (Netherlands)
Sachi Fujikake (Japan)
Shozo Michikawa (Japan)
Sophie Rowley (b. New Zealand, lives and works in Germany)
Tomonari Hashimoto (Japan)
Comment
The third Loewe Craft Prize once again documents the high quality of the top achievements of contemporary craftspeople around the world. The dominance of the Japanese is striking, followed by the British participants. Korean artists also cut a good figure in this year's competition. With the two Italians Giampaolo Babetto and Giovanni Corvaja, as well as Ruudt Peters from the Netherlands, three of the best-known names in jewelry art are represented in the final selection.
In terms of content, some of the 29 works represented in the final selection (shortlist) are still related to the vessel or container. However, apart from jewelry, non-utilitarian sculptural works are increasingly represented. Only intensive knowledge and examination of the material used in each instance places these works in the category of craftsmanship, although they needn't necessarily be interpreted as examples of crafts. When viewed without prejudice, many pieces can be classed as independent works of art that arose in the context of artisanal traditions. In no case can we speak of second-class art here, as craftsmanship is often disparagingly regarded. Although so-called "free" art can score points with complex intellectual concepts embodied in one piece or another, this is contrasted by intensive examination of the material and sovereign mastery of the métier as expressed in demanding artworks with a background in craftsmanship. Historical reasons explain why these are appreciated less than intellectual and conceptual components, but the lower status is neither compelling nor logical.
The creations and the nationalities of the successful participants in the Loewe Craft Prize suggest that artistic craftsmanship is appreciated even more in Japan, Great Britain and Korea than in many other countries, including Germany. Societal recognition is nonetheless indispensable if anything is to change for the better in this respect. In any case, the Spanish Loewe Foundation is making an important contribution to this. Reinhold Ludwig
—
Isamu Noguchi
Indoor Stone Garden Heaven
The Sogetsu Kaikan
2-21, Akasaka 7-chome,
Minato-ku, Tokyo 107-8505