Back in 1202, shoemakers in Barcelona founded what was Europe's first craft guild. In 2002, 31-year-old Norman Vilalta quit his work in a lawyer's office, left his home country of Argentina and learned how to handcraft shoes in Florence. His instructor was the master shoemaker Staphan Giménez from France at the Stefano Bemer Shoemakers. Two years later, Vilalta took over a shop-cum-workshop from an orthopedic shoemaker and even found a flat in the modernist building, which was designed by the Art Nouveau architect Antoni Pàmies and built in 1908. Since then, he has been living and working in the Eixample, Barcelona's Art Nouveau district near the university. The Enric Granados Street, where Vilalta handcrafts welted shoes using the traditional method, is a pedestrian zone in this area, interspersed with galleries, restaurants and cafés — an inspiring mix of tranquility and bustling activity that can't be found in many places in Barcelona. Vilalta starts his days having a cortado in one of the cafés, where people come to enjoy their morning coffees, have a little chat and get ready for their day's work. For this purpose, Vilalta always has his small notebook with him.
The entrance area of his shop-cum-workshop, where two unusual shoes are exhibited in the window, offers a view of the interior. Occasionally, passers-by stop in their tracks and enter curiously. Everybody immediately realizes that this is a place where something rare happens. Vilalta knows about a few people in Barcelona who work with shoes. But what they do is not practicing a professional craft, he says. His workbench and stool are unusually low. Most of the time, one finds him bent over a workpiece on his knees, performing each and every work step with the utmost concentration. Vilalta hardly ever has any walk-in customers. His regular customers call him to make an appointment. For a new customer, he first creates a pair of sample specimens that are refitted several times. Only then does he start the elaborate process of crafting the wooden lasts, designing the shoes' shape and creating the patterns for cutting the leather.
Norman Vilalta is permanently striving for perfection, something that requires mastering one's trade, as well as knowing one's tools and materials, as he explains. "What mainly distinguishes an artisan from a manual worker is his passion for the object he creates," he philosophizes. The tools cannot perform any work independently of the artisan's hands, he says, quite in contrast to machines, which are of course intended to do so. But Vilalta does not only work with his heart and mind involved, he is also an aesthete and untiringly creative craftsman. He is particularly taken with a classic from the past century. For him, it would be a challenge to create a modern-day Oxford. Nevertheless, his favorite shoes are those crafted from Raphia bast, which "develop a truly appealing look, as well as character, only by being worn," comments Vilalta. He devotes particular care and attention to his shoes' leather soles. Some are grained like wood, others emulate the appearance of the shoes' upper leather. The fact that these characteristic features of handcrafted shoes disappear as soon as the shoes are worn does not bother him. After working for 200 to 250 hours on a pair of shoes, his relationship with them ends, and it's time for the beginning of a new love, i.e. the wearer's for his shoes.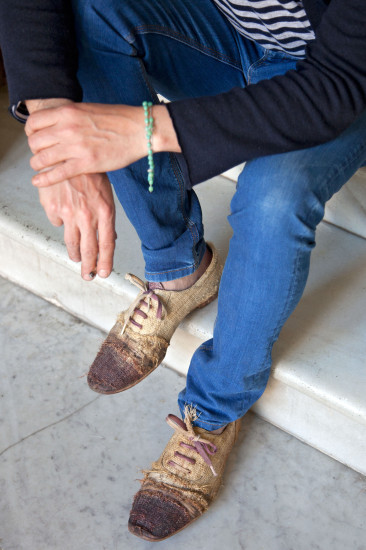 Something that continuously occupies Vilalta's mind is what color to choose for his shoes. Opting for red, orange and blue for classic models, he uses colors that are associated with bullfighting. "Being an individual means of expression, a shoe doesn't need to be subject to fashion," he says. The time has come for people to buy shoes because they like them, and not because a particular style is currently "in". For Vilalta, the customer is always right, and he also enjoys fulfilling unusual wishes. For an artist friend of his, for example, he once crafted a pair of shoes from leather and impregnated paper, as well as a cork/leather sole, whose walls were filled with lavender and thyme pollen. Something he's currently focusing on is what are called Bambas, i.e. linen shoes that are basically a type of sneakers. He dreams here of sophisticated technology, seeks collaboration with the soles' manufacturers, and wears shoes that he bought so as to find out how they feel when being worn. "Marrying Nike's technological know-how to my craftsmanship would be a real challenge," he says while pulling the upper leather over a wooden last with impressive ease and securing it with nails. Vilalta doesn't need to complain about not having enough customers, but instead is observing a growing demand for his custom-made shoes. "People's appreciation for one-of-a-kind pieces is increasing," he says.
Text Tanja Fontane and Reinhold Ludwig
Photos Maite Caramés Pons
English translation Sabine Goodman
The shoemakers' homepage
First published in ART AUREA 2-2014