With the "Hofstall" in Lindelbach, Eva Maisch and her husband Walter Jäckl have created a remarkable venue. With gallery space in a former stable, a large inner courtyard and a spacious barn, the converted farmhouse already revealed its potential as a meeting place and exhibition site for the applied arts at its grand opening in 2018. Lindelbach in Lower Franconia is a district of the wine town of Randersacker and is located just twelve kilometers from Würzburg. The outstanding cultural treasures in this historic city by the Main River include a Romanesque cathedral, Marienberg fortress and the noble Residenz, which was listed as a UNESCO World Heritage Site in 1981.
Present and future cultural treasures, created through the combination of masterly craftsmanship and creative art, likewise figure among the contemporary jewelry and objects of applied art that Eva Maisch presents at the Hofstall in Lindelbach. The exhibition's title "Fallen Out of Time" may sound somewhat antiquated, but the gallery owner is referring to a method of production and a level of quality seldom seen among industrially manufactured products. It's not uncommon to find techniques here that evolved over millennia and have been variously reinterpreted since the modern era.
One example is Ulrike Hamm's colorful parchment jewelry, some of which recalls exotic blossoms or water plants. Parchment replaced papyrus as the substrate for writing in 250 AD. This Berlin-based artist has set herself the goal of researching parchment, in which she continues to discover "undreamt-of possibilities." Hamm says that parchment is "stubborn, mysterious, lively, precious and unpredictable. It's a material that wants to be felt, conquered and explored."
Gabriele Hinze has been using the technique of chasing and hammering for more than two decades. These methods were already used in the Bronze Age to produce sculptural jewelry with attractive and sometimes figurative surfaces. "The principle of repetition appeals to me. There's something meditative about it," says this goldsmith from Berlin. Natural forms such as blossoms, twigs or even insects' wings often serve as the models for these pieces, which allude to life's delicacy and fragility.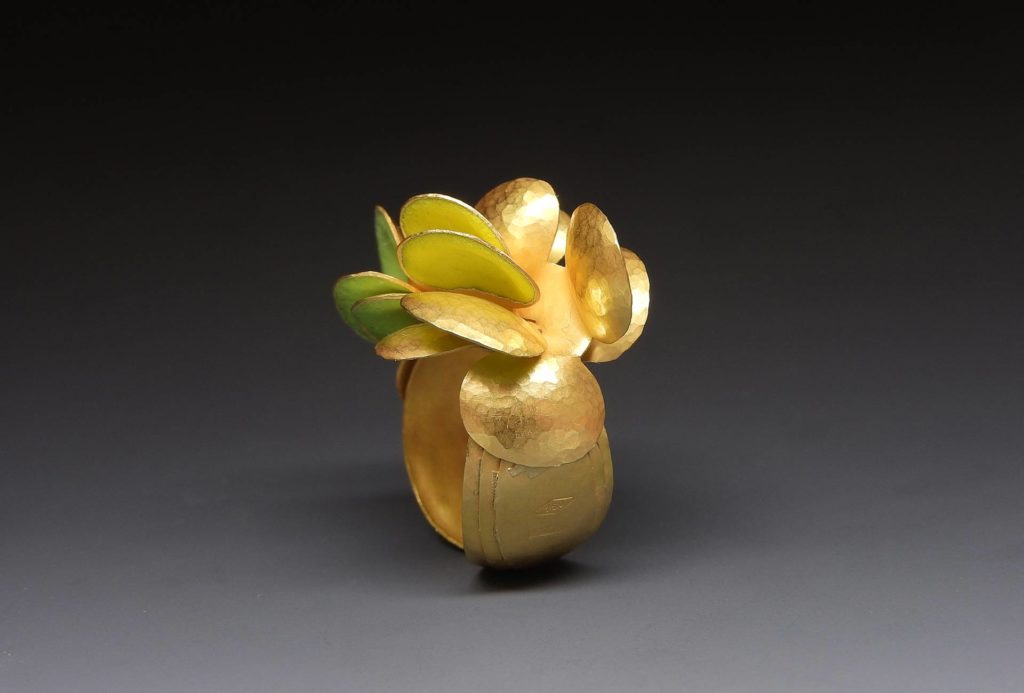 Jacqueline Ryan was born in London, lives in Umbria, and currently ranks among the most highly renowned contemporary jewelry artists. Her pieces likewise allude to nature, but she is guided by principles of order that have inspired goldsmiths since antiquity. It is important to this artist that her work "takes on a different and more profound dimension: conveying a message, telling stories, or revealing the character of the message."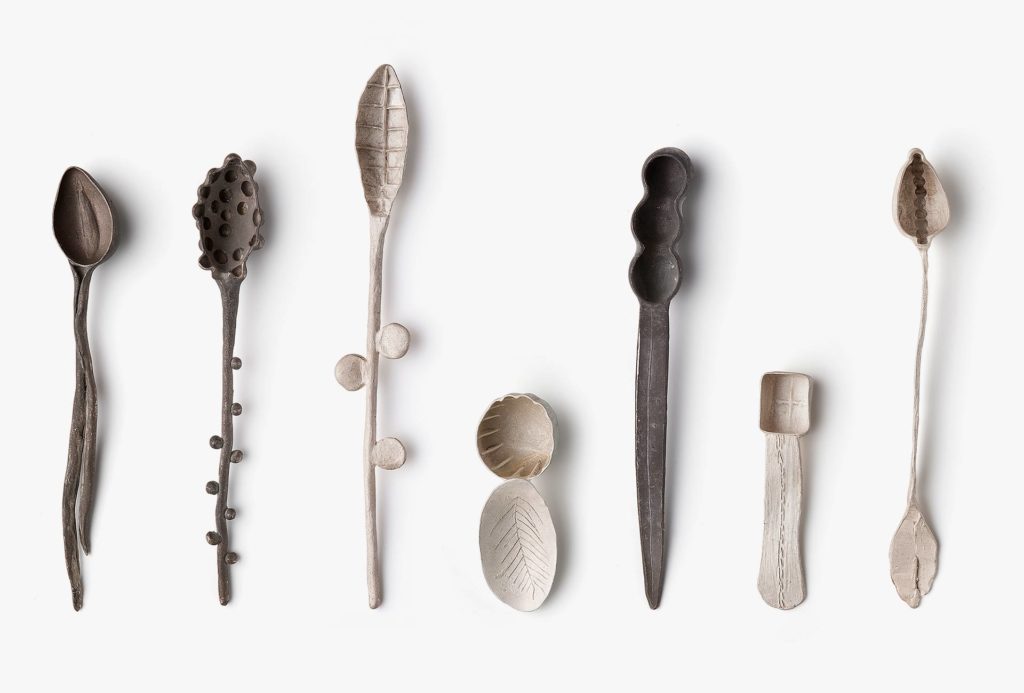 Gabi Veit from Bolzano combines material and form with poetry and philosophy in her jewelry and in her diversely shaped spoons. The spoon is one of humankind's most important cultural tools, but Gabi Veit aptly calls her spoons "creatures" because they are indeed creatures of her imagination, which is inspired by nature. "A spoon has a head and a leg. Spoons are flower and fruit, leaf and stem. They rest cheekily atop a table and they dance out of line. They talk their heads off and speak for themselves."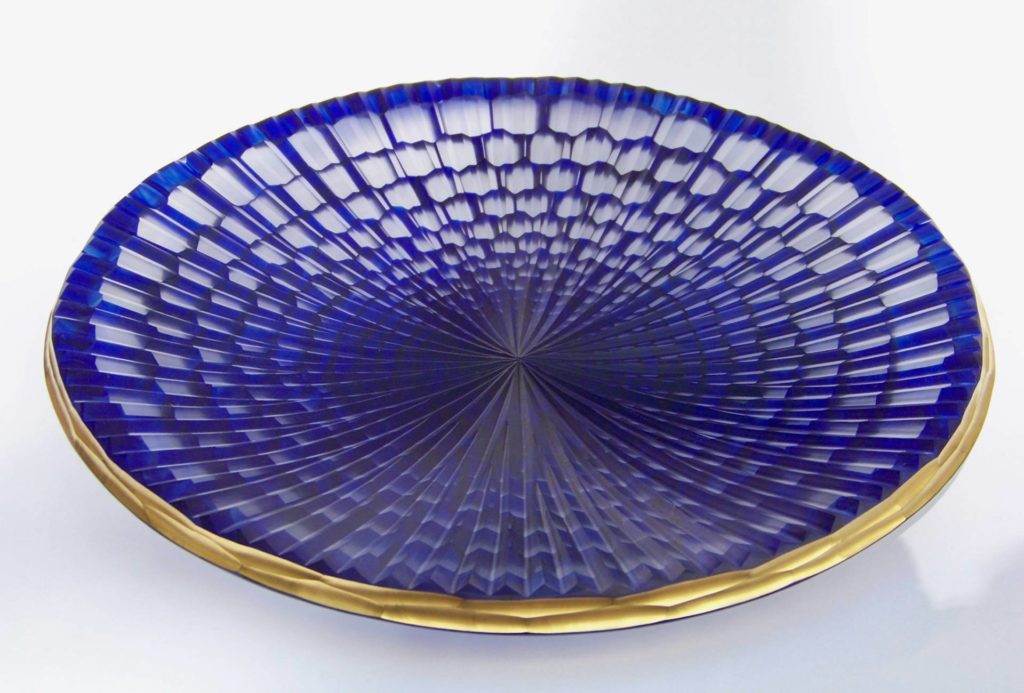 Among the other techniques that Gabriele Küstner learned during her studies, she also mastered the process of making Ancient Roman mosaic glass, which has inspired glass lovers all over the world since the Renaissance as so-called "millefiori." She reinterpreted and further developed this technique in her own way. Dr. Rüdiger Joppien described this artist, who was already inspired by Vasarely when she was a child, as a "witness to German glass history since the 1980s and an artist with a worldwide reputation."
Lutz Könecke from Grossenrode in Lower Saxony comes from an important family of ceramists and is committed to two design traditions: on the one hand, the constructivist formal canon of the legendary Bauhaus, in whose ceramics workshop his great-grandfather Otto Lindig was trained and worked as technical director; and on the other hand, the Kassel School and its famous teacher Walter Popp, who played a decisive role in shaping German ceramics in the postwar period.
Klaus Seyfang from Bissingen (near Ludwigsburg) has dedicated his professional life to basketry. After graduating from high school, he taught himself the craft and then completed an apprenticeship to learn all the tricks of this ancient cultural technique. In the meantime, he has become a well-known basket weaver beyond the country's borders. He cultivates international sharing and teaches courses that help to preserve a beautiful craft in which the waste and rubbish of civilization are unknown.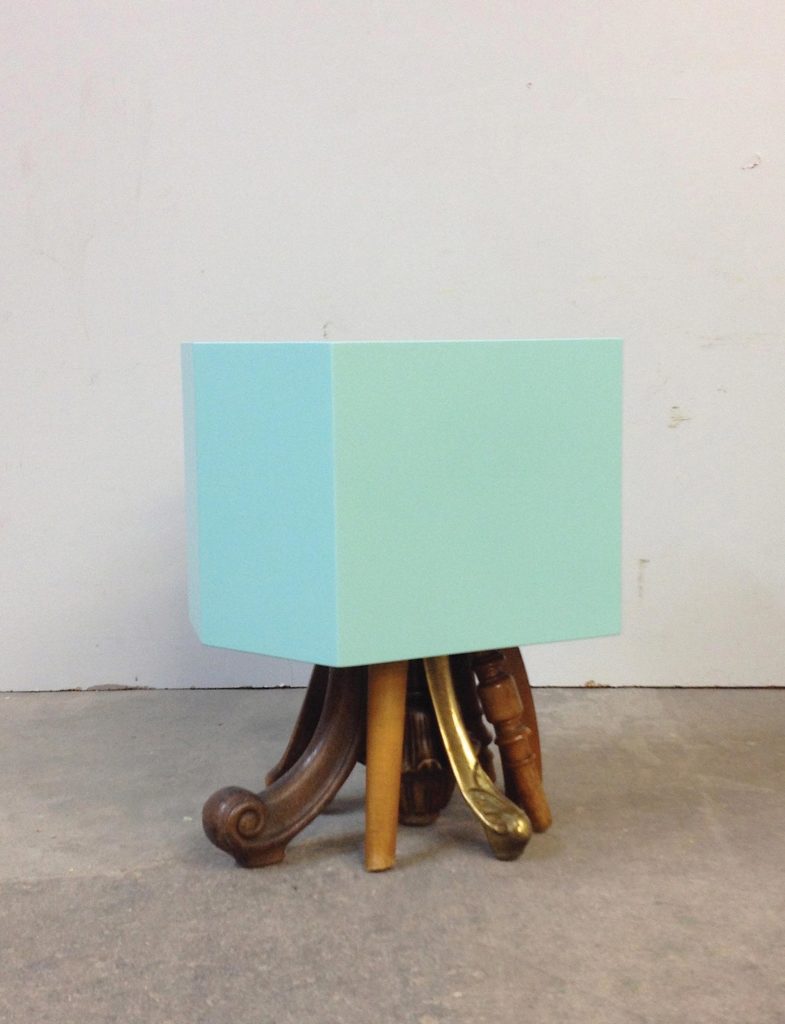 After an apprenticeship as a stonemason, Tobias Schäfer trained as a crafts designer at the Academy of Fine Arts in Stuttgart. His "sticks" series are multifunctional objects, tables with integrated seats, and sculptures with recurring elements and forms that he develops into one-of-a-kind objects through the artistic process of chance. At first glance, his objects with postmodern echoes hardly seem "fallen out of time." But a little consternation is good for any exhibition. Dr. Bettina Brendel will give an introductory talk at 7 p.m. on July 1, 2022.
—
Eva Maisch
Im Hofstall
Wäldleinstrasse 1
97236 Randersacker/Lindelbach
Germany
July 1, 2022 – starting at 7 p.m.
July 2, 2022 – 2 p.m. to 9 p.m.
July 3, 2022 – 11 a.m. to 6 p.m.