There are many design contests around the world, but few are likely to achieve what the "Handwerk + Form" competition has accomplished in the years since its founding in Andelsbuch, Austria: namely, to lastingly contribute toward progress in all artisanal disciplines in Bregenz Forest and to win international renown for those crafts. In the meantime, several workshops have developed their own series of furniture, not infrequently in collaboration with external designers. Handwerk + Form is organized by Werkraum Bregenzerwald, a coalition of more than ninety crafts and commercial businesses in the region.
The landmark and meeting place is the Werkraum building, which was built in Andelsbuch by local tradesmen according to plans drawn by Peter Zumthor, who based his blueprints on the architecture of the National Gallery in Berlin. "Handwerk + Form" was established more than two decades ago by Handwerkerverein Andelsbuch in collaboration with the graphic designer Harry Metzler. Werkraum Bregenzerwald has held the competition every three years since 2000.
The results of the latest competition were presented in October 2018 at various locations throughout Andelsbuch: for example, in an old smithy, a beer cellar, an old bakery and a barn. This gave visitors many opportunities to become better acquainted with the special features of the village, its building culture and some chapters of its history. All items submitted for the contest must be made at workshops in Bregenzerwald. A region's crafts businesses can benefit from trailblazing influences when they invite outside designers from elsewhere in the country or from foreign countries. This enables artisans in the workshops to familiarize themselves with the ideas and concepts of international designers. Conversely, the designers have the chance to immerse themselves in the development and realization of their designs in the practical, day-to-day operation of the workshop.
Projects and craftworks could be submitted in 2018 in three categories: product, building trade, and experiment. The organizers received a record-breaking total of 122 submittals. The monetary prizes, which totaled 15,000 euros, were awarded to 30 works in all three categories. The organizers explain the ranking system as follows: a "commendation" honors an outstanding product embodying high quality in its craftsmanship, form and material; an "acknowledgement" is conferred on an object that came very close to earning a "commendation" in one or more disciplines; and with an "honorable mention," the jury hopes to stimulate companies to continue along the path they have already chosen.
For the first time, "Handwerk + Form" presented a special exhibition of objects which were not eligible to compete in the contest and were made as cooperative projects by the crafts businesses of Werkraum Bregenzerwald in collaboration with international design schools. In this context, experimental objects for home living were developed in cooperation with students at the Royal College of Art (RCA) in London. Small series of marketable products were fabricated in collaboration with the faculty of design, crafts and material culture at New Design University St. Pölten (NDU). The prototypes were displayed in the Jöslar village inn in Andelsbuch.
A total of thirty items received commendations, honorable mentions or acknowledgements. Circa 7,000 visitors viewed the presentations on the show's two weekends in October 2018. The prizewinners' objects will now be shown in Werkraumhaus as a special exhibition. See below for a selection from the winning pieces. All object photos: © Adolf Bereuter.
Holz + Stampflehm [Wood + Rammed Clay] modules (commendation). Solid clay, plaited larch, optionally with heating circuits. Design: Tobias Fritz, Bregenz and Thomas Mennel, Schwarzenberg. Fabrication: Holzhandwerk Fink, Au. Submission category: experiment. When augmented with heating circuits, the modules can be used as radiators or storage heating stoves – the heating technology is not concealed, but comes to the surface thanks to the beauty of the natural materials.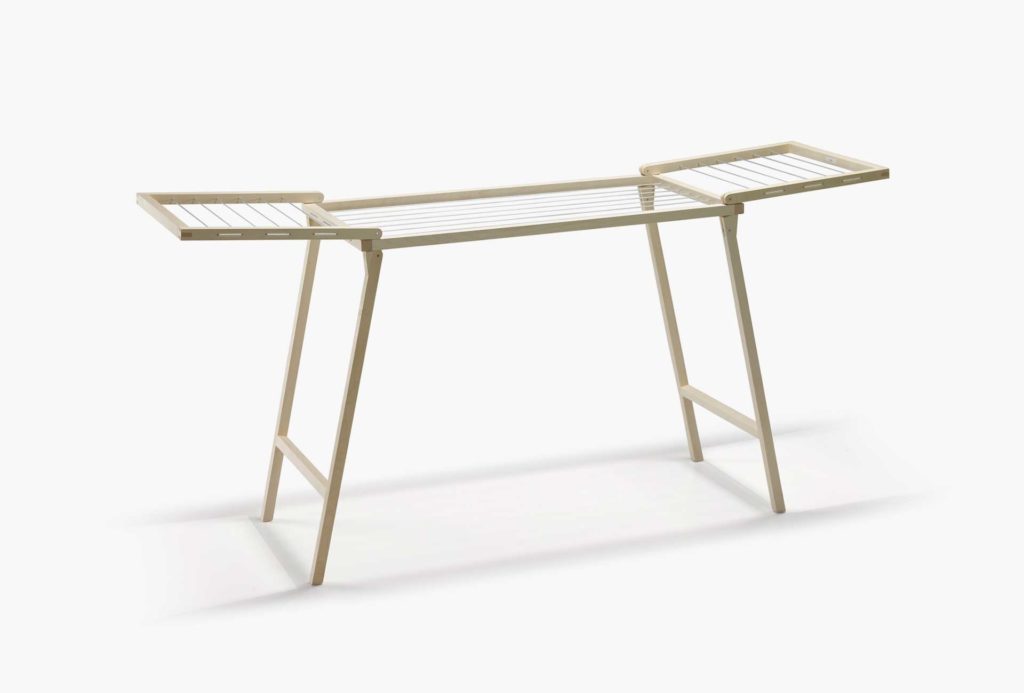 Wäschegaul [Clothes Horse] drying stand (commendation). Maple, 197 x 54 x 90 cm. Design: Thomas Mohr, Andelsbuch. Fabrication: Tischlerei Mohr, Andelsbuch. Submission category: product. A utilitarian product that's often ignored by designers becomes a favorite object thanks to intelligent solutions for its details and tidy craftsmanship in its fabrication.
Ofn [Stove] heating unit (commendation). Chamotte, iron, concrete: 90 x 60 x 108 cm. Design: Klemens Grund, Hausen. Fabrication: Ofenbau Beer, Schoppernau; Kunstschmiede Figer, Bezau. Submission category: product. Depending on the thermal output, the stove can be heightened and an oven can be inserted. The stove conveys more heat into the surrounding room thanks to the raised ridges along its surface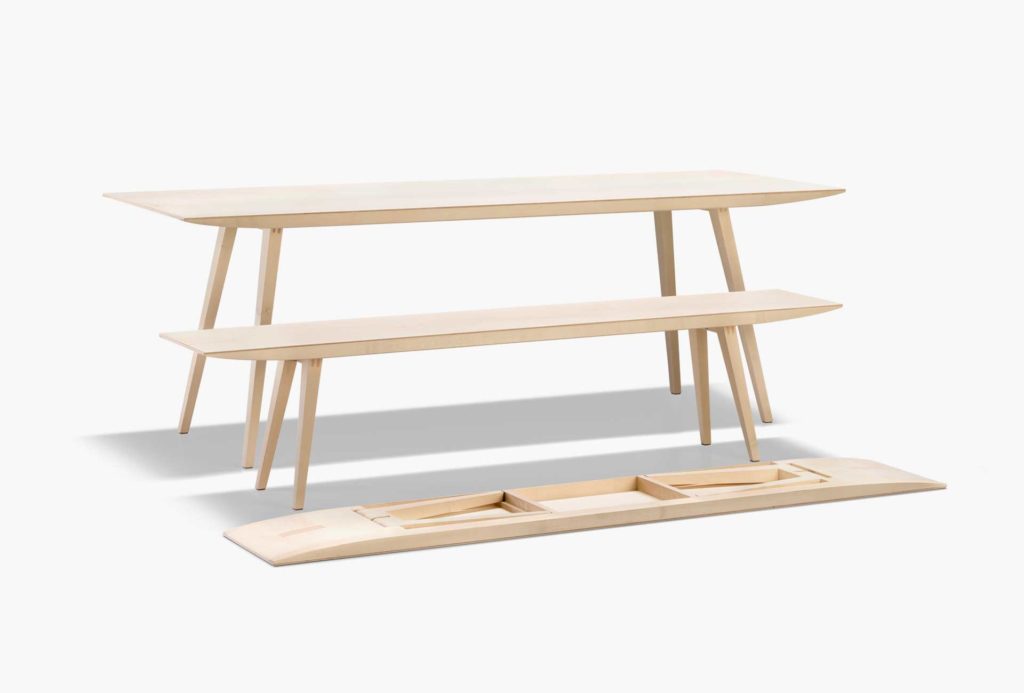 Die Kluppgarnitur [Collapsible Furniture] table and bench (commendation). Maple table: 220 x 80 x 75 cm. Maple bench: 200 x 36 x 45 cm. Design: Stefan Prattes, Bregenz. Fabrication: Tischlerei Mohr, Harald Sohm, Andelsbuch. Submission category: product. Mobile use and space-saving storage are facilitated by the lightweight construction, which combines wooden frames and a thin lamination.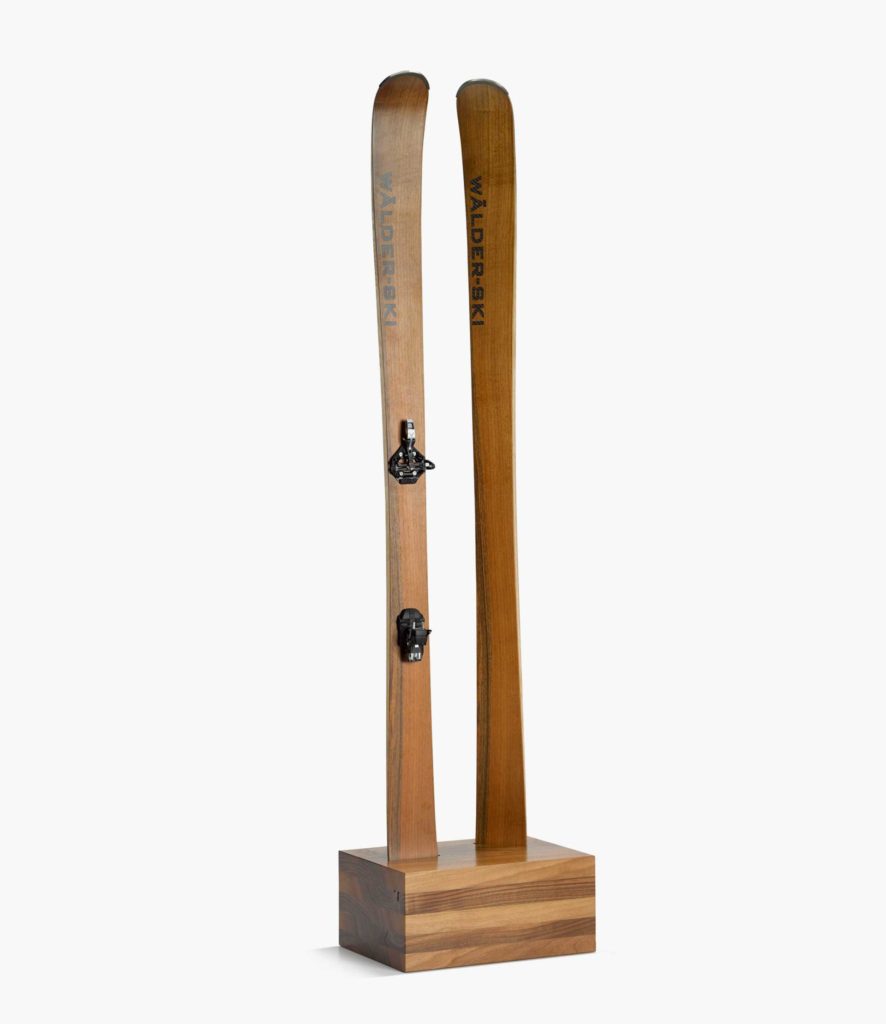 Wälderski [Cross-country Skis] (acknowledgement). Ash, walnut, carbon: 180 x 10 x 10 cm. Design: Stefan Feuerstein, Bizau. Fabrication: Wälderfenster Feuerstein, Bizau. Submission category: product. An outstandingly well crafted pair of cross-country skis as a regionally made product for "gentle" winter tourism.
Schub [Drawer] chest of drawers (acknowledgement). Silver fir, oak: 130 x 45 x 90 cm. Design: Daan Koch, Basel. Fabrication: Dür Naturholzmöbel, Alberschwende. Submission category: product. Architectonic construction, precisely crafted drawers, manually milled drawer guides.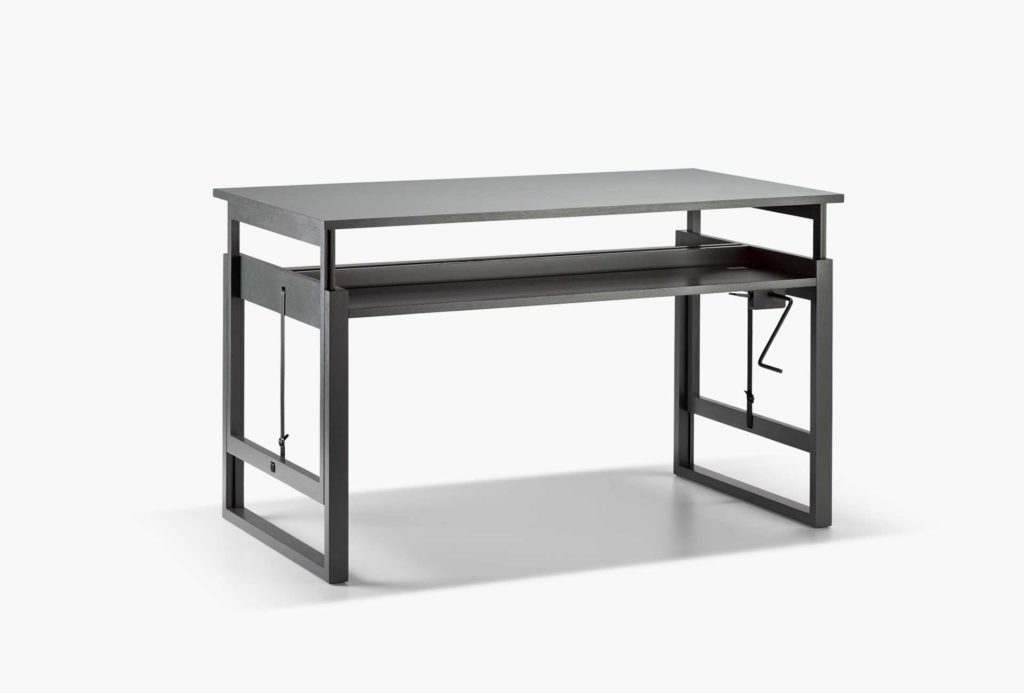 Alza worktable (acknowledgement). Lacquered ash: 144 x 79 x 72 to 110 cm. Design: Ueli Frischknecht, Trogen and Johannes Stieger, St. Gallen. Fabrication: Tischlerei Mohr, Josef Bär, Andelsbuch; Simeoni Metallbau, Andelsbuch. Submission category: product. The height-adjustable table serves as a tool that ergonomically adapts to suit each work situation.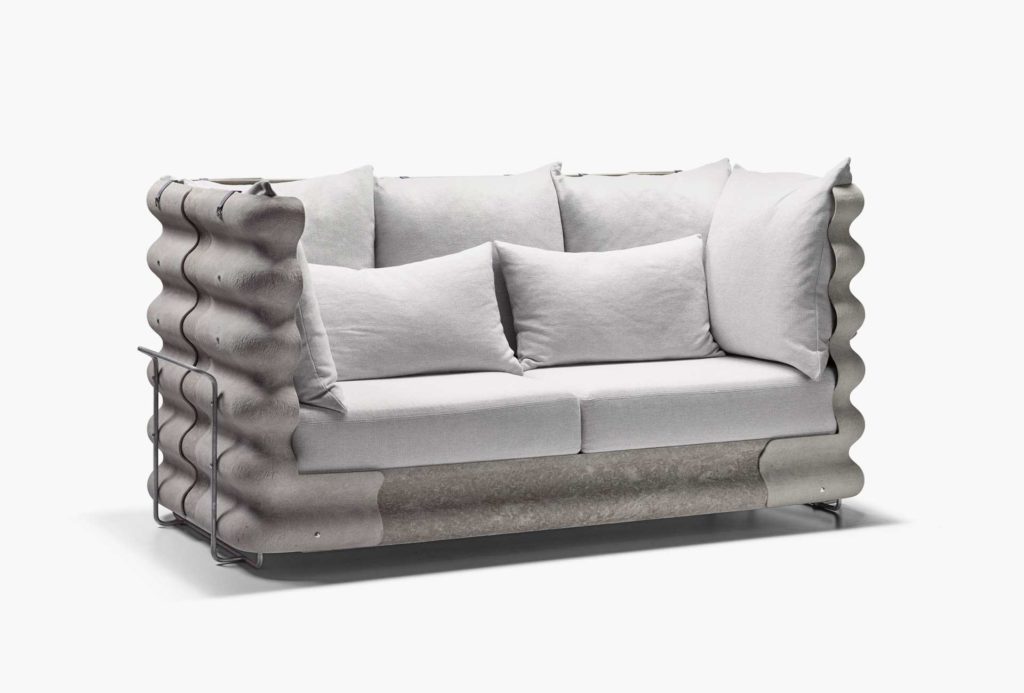 Sofa for indoors and outdoors (acknowledgement). Eternit fiber cement, outdoor fabric: 240 x 82 x 115 cm. Design: Klemens Grund, Hausen. Fabrication: Mohr Polster, Andelsbuch; Dachdeckerei/Spenglerei Ing. Gunter Rusch, Alberschwende; Felder Metall, Andelsbuch; Strahltechnik Peter Muxel, Schoppernau. Submission category: product. The combination of coarse standard roof elements and elegant outdoor upholstery makes this sofa usable both outdoors in the backyard and indoors in the living room.
Ceramic cups (honorable mention). Lacustrine clay: 10 x 8 cm, 7 x 6 cm and 5 x 8 cm. Design: Ludescher + Lutz Architekten, Bregenz. Fabrication: Keramikwerkstatt, Edith Schmuck, Thal/Sulzberg. Submission category: product. Simple and contemporary products could contribute toward reviving the tradition of the ceramist's craft.
Flipchart. Easel and high table (honorable mention). Solid ash, brass fittings, magnetic surface: 5 x 72 x 115 cm. Design: Martin Bereuter, Lingenau. Fabrication: Tischlerei Bereuter, Lingenau; Gerola Metalltechnik, Fredy Kloser, Josef Steurer, Langenegg. Submission category: product. After a collaborative brainstorming on paper at the high table, a hinged mechanism lets users transform the table into an easel for a flipchart.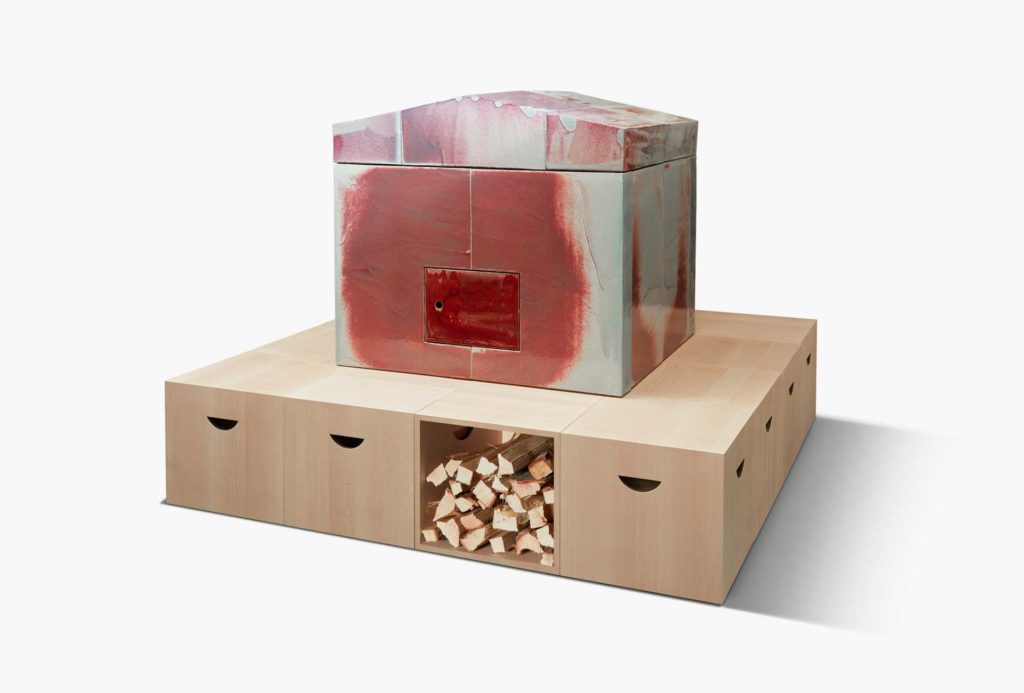 Tiled stove with surrounding bench (honorable mention). Ceramic firebox; glaze made from beech ash, powdered clay and copper oxide. Copper, solid beech wood: 200 x 200 x 143 cm. Design: Marie Janssen, Vienna. Fabrication: Holzwerkstatt Markus Faisst, Hittisau; Simeoni Metallbau, Andelsbuch; Matthias Schawerda, Kautzen, Marie Janssen, Vienna. Submission category: product. All object photos: © Adolf Bereuter
—
Werkraum Bregenzerwald
Hof 800
6866 Andelsbuch
Austria
10 am – 6 pm