Svenja John has been working with plastic sheeting since 1994, imaginatively joining and interlacing small pieces painted in multifarious colors, to form highly original, semiotically multilayered jewelry. This jewelry maker from Berlin spoke with us about the symbiosis of art, technological perfection and manual work.
Art Aurea What does making things by hand mean to you personally?
Svenja John Creating something beautiful by myself is something I have preserved from my childhood. I love it as much as I did back then, I simply enjoy it. While our daily lives are becoming increasingly virtual, working with our hands means returning to what's real. Experiencing the materials of this world with our senses boosts our intelligence. It stimulates our attention and inspires our imagination; we have to improvise and combine. It is while snipping vegetables that we create something new, not while reading cookery books. For me, manual work is also a form of meditation — I create something and can relax at the same time.
Art Aurea Can you give a brief description of your work processes?
Svenja John My work always starts with inspiration. I'm inspired by nature, by technology, by anything. The design phase comes next, involving the drawing of sketches and creating paper models. But I also develop designs using CAD. In the actual crafting process, I cut the individual elements using a water jet cutter, but rework them by hand. I also paint and assemble them manually. You can watch a video on youtube* that shows the work process.
Art Aurea What do you consider to be the main benefit of using modern technology?
Svenja John I use computer programs for all my designs. Otherwise, I would hardly be able to achieve the desired perfection. I try to create a perfect symbiosis of art, technological perfection and manual work. For seven years now, I have also been working and experimenting with rapid prototyping, laser sintering and 3D printing. In 2008, I created five bracelets using the PolyJet multi-material 3D printing technology, and in 2010 I produced a series of rings using the LaserCusing technology so as to shape stainless steel rings directly from the design data.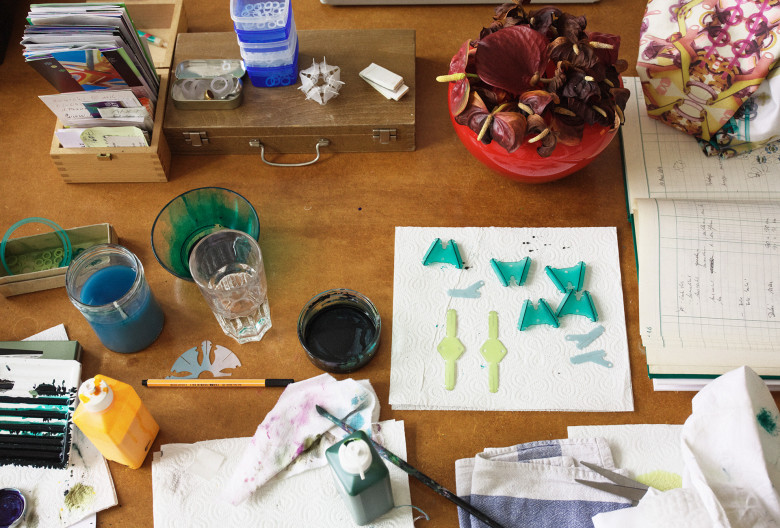 Art Aurea Is your work, as well as art jewelry in general, being met with sufficient appreciation?
Svenja John People in my direct environment appreciate art jewelry, of course. After all, I've been preaching the artistic gospel to my friends and acquaintances for 20 years now. But we also meet with appreciation when we can present and explain our creations to a larger public. At my last big solo exhibition within the framework of the furniture fair in Cologne, for example, visitors said "chapeau".
Art Aurea Why does this happen so seldom?
Svenja John We auteur jewelry creators are still not sufficiently present in the public's mind! The buyers who still have a sensibility for high-quality objects are growing increasingly older. They appreciate my individual language of form and design and are willing to pay for uniqueness. But this generation is dying out, and it isn't all that simple for a new one to succeed it.
Art Aurea What's the reason for this, and what could be done to change this?
Svenja John The younger generation is currently in a process of downsizing. They limit themselves to what's essential. On principle, this is a good thing, but it leads to jewelry — which many of them pigeonhole as luxury — becoming obsolete. Perhaps we can use the concept of "less is more" as a chance, because this is exactly our principle as opposed to superficial luxury.
Art Aurea What kind of advantage do your customers get from owning and wearing your jewelry?
Svenja John Jewelry such as I create boosts our self-confidence. It conveys an individuality that no clothes can do, and it encourages communication. I'd really like to know what kind of reactions are prompted by the piece of my jewelry that the Italian Ambassador bought here in Berlin recently, or by the brooch that is now being worn by a young architect at the Behnisch company.
Art Aurea What are you currently working on, and what motivates you to continue in spite of all the difficulties?
Svenja John I enjoy developing new ideas, and it motivates me. In parallel to creating my one-of-a-kind pieces, I also developed the xemaroo design line. Another project involves transferring my jewelry designs on silk shawls. I myself am totally fascinated. By fitting colorless, two-dimensional pieces of plastic sheet together, I create three-dimensional jewelry. Then I sort of re-transfer it into something two-dimensional by digitally printing the motifs on silk. The first reactions were: "Like Hermès, only more modern!"
Interview Reinhold Ludwig
Fotos Achim Hatzius
English translation Sabine Goodman
The jewelry artists homepage
First published in ART AUREA 2-2014